My friends were teasing me that I didn't really show up to my own party on the fourth, as I was bee-bopping around the property, keeping an eye on the Seven Hour Braised Lamb: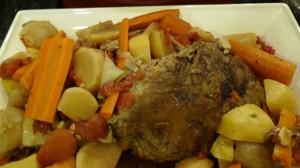 And making hamburgers and Mar-a-Lago Turkey Burgers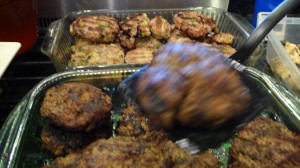 (Action shots of the burgers! I was weaving through people coming through the kitchen/buffet line)
Mar-a-Lago Turkey Burgers
adapted from Oprah
* 1/4 cup thinly sliced scallions
* 1/2 cup finely chopped celery
* 4 Granny Smith apples finely diced
* 1/8 cup olive oil
* 5 pounds ground turkey breast
* 2 Tbsp. salt
* 2 Tbsp. black pepper
* 2 tsp. Chipotle pepper sauce
* 1 lemon , juiced and grated zest
* 1/2 bunch parsley , finely chopped
* 1/4 cup Major Grey's Chutney , pureed
Sauté the scallions, celery and apples in the canola oil until tender. Let cool.
Place the ground turkey in a large mixing bowl. Add sautéed items and the remaining ingredients. Shape into eight 8-ounce burgers. Refrigerate for at least 2 hours.
Season the turkey burgers with salt and pepper. Place on a preheated, lightly oiled grill. Grill each side for 7 minutes until meat is thoroughly cooked. Let sit for 5 minutes.
My friend Fredna brought marinated chicken skewers: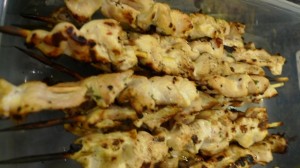 At this point, you might be thinking, "Hey, Jen, I thought you were a vegetarian." I am. Still am. Made a bunch of meat, but didn't eat any of it, but I hear it was lovely.
Have no fear. There was no way to starve at this party.
There was Curried Lentil Salad:

Curried Lentil Salad
adapted from Cooks.com
Vinaigrette:
1/8-1/4 c. olive oil
1/2 c. red wine vinegar
2 tbsp. sugar
2 tsp. salt
2 tsp. pepper
1 tsp. ground cumin
1 tsp. dry mustard
1/2 tsp. turmeric
1/2 tsp. mace
1/2 tsp. coriander
1/2 tsp. cardamom
1/4 tsp. cayenne
1/4 tsp. ground nutmeg
1/4 tsp. ground cinnamon
teeny pinch of ground cloves
1 1/2 c. finely chopped red onions
Salad:
1 lb. dried red lentils
1 c. currants
1/2 c. capers
In large bowl, whisk together all ingredients for dressing. Set aside.
Wash lentils. Cook in boiling water 5-6 minutes or until just tender. Rinse and drain well, combine with dressing and let sit overnight. At least 2 hours before serving, add capers, and currants to lentils. Let marinate.
Teresa brought this Mediterranean Salad with the cutest little mozzarella squares: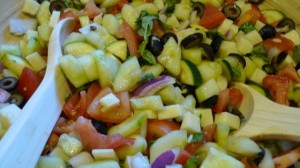 Aside from the Orzo, I'm not sure what was in this yummy salad that Bill and Emalee brought, but I'll post recipes (or not) for these dishes as people ante them up.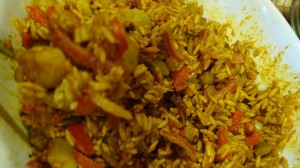 Going with the Variations-on-a-theme of a little weird, Erich and Andi brought this potato salad, which was delightful and toothsome.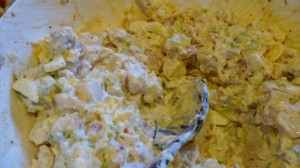 Seriously, there was so much food, I kind of lost track of the parentage of some of it, including this pasta salad, which I think I know who brought it, but I'm not swearing to that: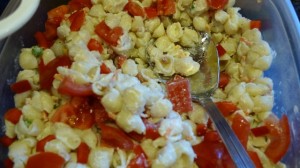 This salad, from Elaine, has watermelon, tomato, and gorgonzola in a balsamic vinaigrette. That recipe is definitely coming my way, and will be posted here. Our discussion of this salad is what started the "weird food" variations on a theme for the party.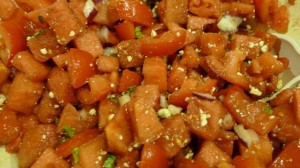 One of the variations I did to this mango salad was to use beluga lentils instead of black beans, which changed it's southwest flair just a tad, but it was nonetheless delightful, and my bean-haters liked it better this way:

Roasted Corn, Beluga Lentil, and Mango Salad
adapted from Olivia63 at Grouprecipes.com
* 2 tps. olive oil
* 1 clove garlic, minced
* 1 1/2 bags of frozen corn
* 3 large ripe mangos, peeled and diced
* 1 1/2 C. cooked beluga lentils
* 1/2 C. chopped red onion
* 1 diced red bell pepper
* 1 diced yellow bell pepper
* juice of 1 lime
* 1 small can mild chilies
* 1/2 bunch chopped fresh cilantro
* 1 tsp. ground cumin
* 1/4 tsp. Sea salt
Directions
1. Heat oil in a large skillet over medium-high heat.
2. Add garlic and cook, stirring, until fragrant, about 30 seconds.
3. Stir in corn and cook, stirring occasionally, until browned, about 8 minutes.
4. Transfer the corn mixture to a large bowl. Stir in mango, lentils, onion, bell pepper, lime juice, chilies, cilantro, cumin, and Sea salt.
Teresa brought Berry Salad (with Strawberries, Blueberries, and Raspberries) for dessert,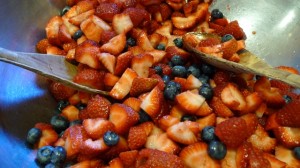 And, later in the evening we had watermelon and these chocolate chip cookies.
My friend Teresa commented that she was taking a bunch of pictures of me at the house, to prove that I was actually at the party . . . I realized this morning that I didn't take ANY pictures of the people or the party itself, just the food.
I'm the biggest goob.