There's two kinds of chicken skewers pictured here.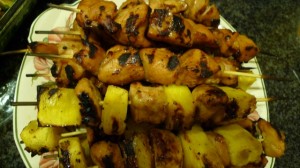 The first, sans pineapple, was marinated in Soy Vey's Hoisin Sauce, the others, in the Soy Vey Island Teriyaki and interlaced with drunken pineapple (pineapple soaked in rum).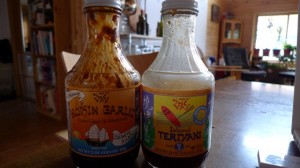 They go on an 350-400F grill for about 10 minutes. Chicken is a little fussy, because the window between underdone and overdone is so small, which is what makes the kabobs such a nice grilling genre for the chicken: you can get the meat done without burning the chicken to an unfortunate crispy carbon cube.