Could there be anything more delightful than a homemade cracker?
I will say up front that I do not think the pasta machine is an optional piece of equipment here. I suspect that, for a really good pastry person who has a great relationship with h** rolling pin, it's optional, but I am not that great pastry chef (or an Italian pasta-making grandmother–which is precisely why I own a pasta roller attachment for my Kitchenaid in the first place).
Working from 101 Cookbooks recipe, I added fresh rosemary to about half of the crackers, and shaved Parmesan to the others. I sprinkled them all with a bit of salt before baking them.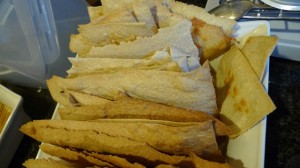 They turned out so well that Michael thought they were store bought, and asked where I got them.
If you make the recipe, please realize that, rolled out to 4 on the pasta roller, this recipe makes a LOT of crackers. That's a 9 x 11 container they're sitting in (see picture above). Don't do what I did and double the recipe . . . or you're likely to do what I did, and throw the remainder of the dough in a ziploc baggie and toss it in the freezer. I have no idea how that will impact the process, but I"m sure I'll find out in the future (and probably write about it here).