Drunk Pineapple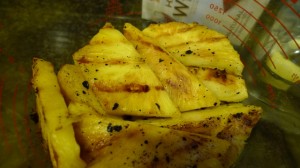 Drunk Pineapple is a cinch.
Cut up one pineapple. When it's just us, I use full-sized disks, but when we have others over, I cut them in half, because I've found that most people are overwhelmed by a large piece of the pineapple. The real trick is to get them to be of similar thicknesses, because it helps them grill evenly together. Put the pineapple in a bowl, pour 1 cup of rum (I used Bacardi) and 1 cup of water over it. Cover, and let marinate at least 6 hours, preferably overnight, turning occasionally, so all the pineapple gets the rum. (You could save the turning step by doing it in a ziploc baggie).
Grill for about 4 minutes on each side.
The other grilled pineapple I do is marinated in Sweet Chili Sauce and a handful of chopped cilantro, same basic premise, but the marination time can be as little as an hour.