My niece, Brooke, is turning one, and I am in California to meet her and attend her party.  Farmerteen ships off to camp tomorrow, so neither she nor Michael came along.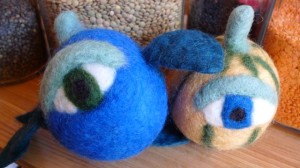 I decided something homemade was the way to go, and, since she's still little, I created these balls.  There's a back story, that goes something like this:  Farmerteen and her aunt (Brooke's mother) have had an on-going love of spooky stories. Farmerteen has recently also fallen in love with the Twilight series, so I played around with the idea of making really cute, scary little dudes.
They're 100% wool wrapped around a core of a plastic egg that contains something (washers, a jingle bell, glass beads . . .), then felted and decorated with colored wool, then felted again. I used a combination of needle felting and wet felting (in a lingerie bag in the washer).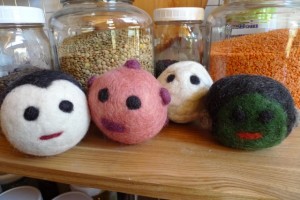 From left to right: Wampire, Pinky, I Want My Mummy, Franken's Mine