It was not a surprise to walk into Manito Methodist Thursday morning and walk past a half dozen people of different nationalities and religions on the way into the Interfaith Thanksgiving Service. It was a little bit of a surprise when the guy in the yarmulke reached out, grabbed my braids, and tugged them alternately. "It's a Wisconsin handshake," he grinned, "It had to be done." I wasn't really familiar with this, but the air was crisp, the guy was smiling, and it seemed in good humor, so I grinned back, took a bulletin from the Hindu guys, and we made our way into the seating between the Unity choir (30 people–on Thanksgiving day!), the Buddhist monk, and the really really tiny Muslim lady.
A Wisconsin Handshake involves one person interlocking her fingers, thumbs down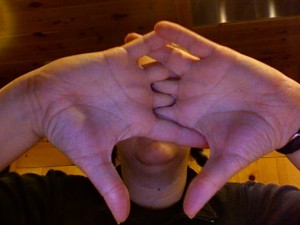 , while the other person reaches out and "milks" the thumbs.
I don't remember what I was looking for exactly when I stumbled upon an article about the Interfaith Council's Thanksgiving Service, but I thought they'd probably have one this year, and it was just a matter of finding it, so I stuck it in my calendar, and found it.  Hooray for the internet! A veritable font of information! 42!
The Interfaith Service itself was a series of prayers, blessings, chants, meditations, and reflections on thanksgiving and hope, from the different faiths gathered: Baha'i, Buddhist, Disciples of Christ, Hindu, Jewish, Methodist, Muslim, Native American, Sufi, Unity — and the congregation gathered, which seemed to range as widely (we saw some other Episcopalians we know–I don't know the denominations of the other folks in attendance, though we were behind a wild driver from Idaho from the highway all the way up the hill).
We almost didn't go . . . I had a tragic turkey incident the night before (that lasted until after midnight, but ended less tragically), were up too late, and I really didn't think we'd get done and home in time from the south hill in Spokane to avoid a second turkey tragedy . . . but Michael made some coffee while I was in the shower, and we headed out on our slippery mountain road and it all worked out just fine. (And, when the car decided to not be on the road anymore, it decided to go in the ditch side, not the death side, so even the excitement of the first snowy road was not enough to drive us to give up, turn around, or drink heavily when we got home to counteract the effects of the adrenaline). I'm really glad we did, though.