As you may recall, we spent this Christmas driving around, delivering baked goods to the folks we knew were going to be alone because the service (and brunch) were canceled.
Despite our somewhat morose and not very festive mood, Farmergirl decided we needed a tree, and so she set one up:
Taking a picture of the tree made us feel even more morose, so I tried re-staging it:
We did manage to take a few pics whilst driving around:

I did say, at the beginning of this post, that there were slipper socks. I seem to have got diverted with the Charlie Brown tree.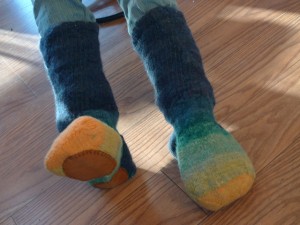 Sadly, I had not finished attaching the soles by Christmas. It proved a more difficult task than I'd anticipated, and I got them finished in time for Farmerteen's birthday.