I don't think I would add the vanilla in again, if I were doing this recipe for the blueberry sauce on broiled cantaloupe. I would also reduce the amount of honey.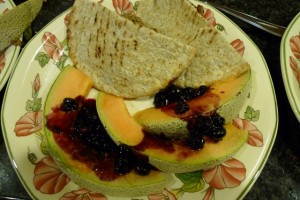 Instead of grilling the cantaloupe, I broiled it for almost 5 minutes. It doesn't brown, but it changes and deepens the flavour of the cantaloupe, which is rather pleasant, if not a little strange (since it's warm).
We had the cantaloupe with Mar-a-Lago Vegan Burgers, which are a variation on the Turkey Burgers Oprah so loves.
I got a little too carried away with the food processor, and ended up taking my bean smush and turning it into a beanloaf instead of shaping patties out of it. I will post a recipe when I have something that works better. I put the bean loaf in whole wheat pitas with lettuce and stone ground mustard.