The whole wheat quick bread I made for dinner was not vegan. It included milk. I also substituted honey for the molasses, though as it turns out, I do have molasses in the house.
The corn chowder involves picking a pot, and then, with a little bit of olive oil, start adding onions and garlic, cooking until the onions are translucent.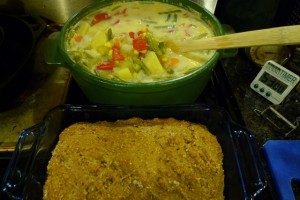 Then add water or vegetable stock, and start adding chopped vegetables: carrots, celery, potatoes, corn, bell peppers. How much of each is up to you. I pick a pot that matches the amount of soup I need, and go from there. This is a 4.2 quart pot. When the vegetables are tender, add the beans (so they haven't over cooked). When the beans are cooked, turn off the heat, and add soy milk and chopped parsley.
I was a little concerned that the soy milk would ruin the taste. It didn't. It is a little thinner than chowder (two reasons: one, soy milk is similar to skim, and two, it was a gluten-free chowder, so I didn't add crackers to thicken it). Cream makes a much thicker chowder. You could also remove a few potatoes and blenderize them to thicken the soup.