Field roast is a strange-but-wonderful concoction by the Field Roast Grain Meat company that we first had at Mizuna, a local Spokane restaurant that includes vegan offerings that aren't just a salad-and-pasta after thought.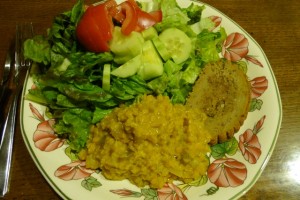 I served it with a red lentil mixture and salad.
The lentils involve:
1 diced yellow onion
2 cloves of garlic
olive oil
Heat until the onion is translucent, and beginning to brown.
Add:
1 tsp tumeric
1 tsp cumin
1 tsp coriander
Stir for about 1 minute to roast the spices.
Add:
1 cup of red lentils
2 1/2 cups of water
1 tin of green chilis
Cook until the lentils have absorbed the water, stirring frequently, because those puppies will stick to the bottom of your pan if you give them half a chance.