I wanted to make Samosas (I'd really go for a mimosa, too, but that's a separate idea).
Ingredients
* 1 tablespoon olive oil
* 1 chopped onion
* 1 potato, diced into 1/4″ pieces, cooked until tender
* 1 can garbanzo beans, drained
* 2 tablespoons sweet curry powder
* water
* egg roll wrappers
Directions
1. Preheat oven to 350 degrees F (175 degrees C).
2. Heat oil in a large skillet over medium-high heat. Saute onion until browned, about 5 minutes. Reduce heat and add garbanzo beans and potatoes. Mix curry powder with 1/4 cup water until smooth, then add to skillet. Simmer mixture 10 minutes, stirring frequently and adding more water as needed to keep mixture moist.
3. Spoon mixture into egg roll wrappers and roll as if for eggrolls, using a small amount of water to seal the ends. Place on silpat or parchment lined baking sheet.
4. Bake in preheated oven for 20 minutes.
If you want the wrappers to brown, you'll need to brush them with butter or oil, but I didn't, and they tasted just fine (and were less oily), but they don't really brown.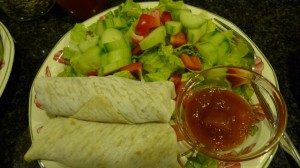 I served them with green salad and Major Grey's Chutney.
In the future, I'll probably let them sit for 10 or 15 minutes before serving, because they were really hot.